Rotala indica 'Bonsai' TC
Reviews (0)
0
Out of stock
Notify me when this product is back in stock!
Rotala indica 'Bonsai' – Tropica 1-2 Grow! Tissue Culture
Rotala indica 'Bonsai' is best described as a compact, moderate growing version of Bacopa caroliniana.
Plant it in small groups and trim it often. Cuttings may be re-planted in the group to achieve a more dense group or carpet.
At high light the tip of the stems may become reddish, at lower light the leaves will become larger and the plant less compact.
Rotala 'Bonsai' is particularly suitable for nano-aquariums.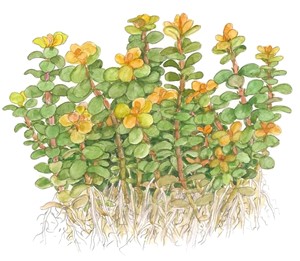 Plant info
Type:
Stem
Origin:
Cultivar
Country or continent where a plant is the most common. Cultivars arise or are bred in cultivation.
Growth rate:
Growth rate of the plant compared to other aquatic plants.
Height:
5 – 20+
Average height (cm) of the plant after two months in the tank.
Light demand:
Medium
The average or medium light demand of an aquarium plant is 0,5 W/L.
CO2 :
Medium
A medium need in CO2 is 6-14 mg/L. A high demand in CO2 is approx. 15-25 mg/L.
NOW SHIPPING LIVESTOCK AND PLANTS YEAR-LONG
We now ship dry goods and livestock all year! If shipping livestock, your Styrofoam box and heat pack are automatically added to your cart for +$25.