Rotala rotundifolia 'H'ra' TC
Reviews (0)
0
Out of stock
Notify me when this product is back in stock!
Rotala rotundifolia 'H'ra' – Tropica 1-2 Grow! Tissue Culture
Aquarium plant from tissue culture in closed cup.
Rotala 'H'ra' has rather narrow leaves and an overhanging or creeping growth. It is probably a variation of Rotala rotundifolia and has much resemblance to Rotala sp. 'Green'.
High light levels, good fertilization and added CO2 will induce almost exclusively creeping growth and a warm, rich orange coloration.  This makes it possible to create a dense, orange mid-ground cushion or even an unusual, orange foreground carpet.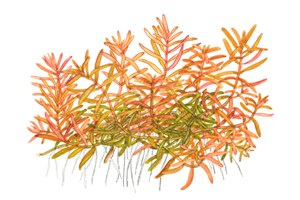 Plant info
Type:
Stem
Origin:
Asia
Country or continent where a plant is the most common. Cultivars arise or are bred in cultivation.
Growth rate:
Growth rate of the plant compared to other aquatic plants.
Height:
3 – 20+
Average height (cm) of the plant after two months in the tank.
Light demand:
Medium
The average or medium light demand of an aquarium plant is 0,5 W/L.
CO2 :
Medium
A medium need in CO2 is 6-14 mg/L. A high demand in CO2 is approx. 15-25 mg/L.
NOW SHIPPING LIVESTOCK AND PLANTS YEAR-LONG
We now ship dry goods and livestock all year! If shipping livestock, your Styrofoam box and heat pack are automatically added to your cart for +$25.