Marsilea hirsuta TC
Reviews (0)
0
Marsilea hirsuta – Tropica 1-2 Grow! Tissue Culture
Marsilea hirsuta is a carpet-plant from Australia. A fascinating plant, usually delivered with leaves like a four-leaf clover. After a transitional period it develops different types of leaves, possibly a low form with single leaves like a large Glossostigma, or alternatively develop two, three or four-lobed leaves varying in height (from 2-10 cm), depending on the growth conditions. Whichever form the plant adopts, it forms runners and spreads rapidly round the aquarium.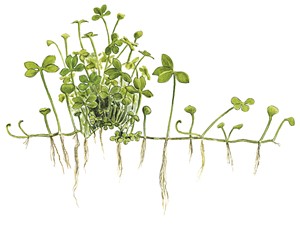 Plant info
Type:
Carpeting
Origin:
Australia
Country or continent where a plant is the most common. Cultivars arise or are bred in cultivation.
Growth rate:
Medium
Growth rate of the plant compared to other aquatic plants.
Height:
5 – 20+
Average height (cm) of the plant after two months in the tank.
Light demand:
The average or medium light demand of an aquarium plant is 0,5 W/L.
CO2 :
A medium need in CO2 is 6-14 mg/L. A high demand in CO2 is approx. 15-25 mg/L.
| | |
| --- | --- |
| Weight | 0.09 lbs |
| Dimensions | 7 × 7 × 7 cm |
NOW SHIPPING
LIVESTOCK AND PLANTS
We ship dry goods all year, but buy now to have your live goods delivered before the winter season!