Cabomba Aquatica – Unpotted
Reviews (0)
0
Out of stock
Notify me when this product is back in stock!
Cabomba Aquatica – Locally Cultivated Plants without Pot
Cabomba is a very popular aquarium plant from South America owing to its beautiful foliage. It reaches 30-80 cm and each stem can become 5-8 cm wide. The least demanding of the Cabomba-species, but still causes problems in poorly lit aquariums. If there is not sufficient light, try Limnophila sessiliflora, which requires less light. Most decorative when planted in groups.
Eaten locally as a vegetable.
A bundle of stems or young plants gathered in an anchor. Remove the anchor and split into separate plants. Regarding stem plants, remove the leaves from the lowest 5 cm (2"). Remove any damaged leaves. Plant the individual plants with some distance into the bottom substrate. Roots will develop soon and the plant start growing.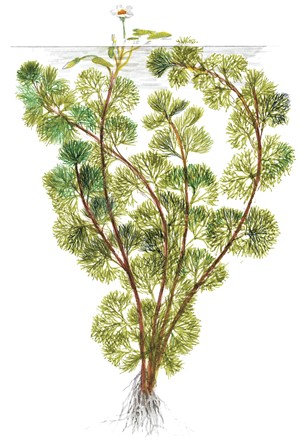 Plant info
Type:
Stem
Origin:
South America
Country or continent where a plant is the most common. Cultivars arise or are bred in cultivation.
Growth rate:
High
Growth rate of the plant compared to other aquatic plants.
Height:
20 – 30+
Average height (cm) of the plant after two months in the tank.
Light demand:
Medium
The average or medium light demand of an aquarium plant is 0,5 W/L.
CO2 :
Low
A medium need in CO2 is 6-14 mg/L. A high demand in CO2 is approx. 15-25 mg/L.
NOW SHIPPING LIVESTOCK AND PLANTS YEAR-LONG
We now ship dry goods and livestock all year! If shipping livestock, your Styrofoam box and heat pack are automatically added to your cart for +$25.