Limnophila hippuridoides – Potted
Reviews (0)
0
Out of stock
Notify me when this product is back in stock!
Limnophila hippuridoides – Tropica Potted Plant
Limnophila hippuridoides is originally from Asia and the stalks grow to be 20-50 cm high and 6-10 cm wide – often with beautiful outwards crooked shoot tips. A simple plant, able to adjust to various conditions.
The leaves are green with a red-violet underside, and the whole leaf turns red-violet under ideal growth conditions. A vigorously growing plant that willingly creates new, solid shoots from the base. Thinning of the oldest and longest shoots is recommended, in order to make room for such new shoots. Replant the cut-offs, they will soon grow new roots.
If either stem or leaves are damaged, a strong scent is emitted.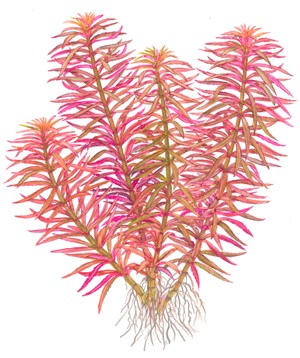 Plant info
Type:
Stem
Origin:
Asia
Country or continent where a plant is the most common. Cultivars arise or are bred in cultivation.
Growth rate:
Medium
Growth rate of the plant compared to other aquatic plants.
Height:
20 – 30+
Average height (cm) of the plant after two months in the tank.
Light demand:
Medium
The average or medium light demand of an aquarium plant is 0,5 W/L.
CO2 :
Low
A medium need in CO2 is 6-14 mg/L. A high demand in CO2 is approx. 15-25 mg/L.
NOW SHIPPING LIVESTOCK AND PLANTS YEAR-LONG
We now ship dry goods and livestock all year! If shipping livestock, your Styrofoam box and heat pack are automatically added to your cart for +$25.