Riccia fluitans TC
Reviews (0)
0
Out of stock
Notify me when this product is back in stock!
Riccia fluitans – Tropica 1-2 Grow! Tissue Culture
Aquarium plant from tissue culture in closed cup.
Japanese Takashi Amano has inspired many aquarium owners to keep the 1-5 cm tall cosmopolitic liverwort, Riccia fluitans, submerged. It can be kept down by tying it to a stone with a piece of fishing line, but new shoots always grow towards the surface, so it may be necessary to prune it with scissors. Riccia fluitans thrives best with added CO2 and in good growing conditions small oxygen bubbles form on the leaf tips. As a traditional floating plant it offers good protection for young fish.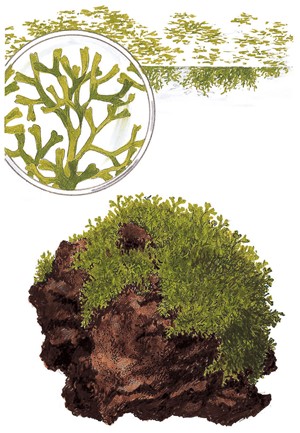 Plant info
Type:
Moss
Origin:
Cosmopolitan
Country or continent where a plant is the most common. Cultivars arise or are bred in cultivation.
Growth rate:
Medium
Growth rate of the plant compared to other aquatic plants.
Height:
3 – 5+
Average height (cm) of the plant after two months in the tank.
Light demand:
Medium
The average or medium light demand of an aquarium plant is 0,5 W/L.
CO2 :
Medium
A medium need in CO2 is 6-14 mg/L. A high demand in CO2 is approx. 15-25 mg/L.
NOW SHIPPING LIVESTOCK AND PLANTS YEAR-LONG
We now ship dry goods and livestock all year! If shipping livestock, your Styrofoam box and heat pack are automatically added to your cart for +$25.